______________________________
Bleachers Bums XXXVII
Kentucky Bourbon Tour
June 7 – 16
Yes! Blues, Brews & Baseball.
Not to mention a bus – AND BOURBON!
Chicago (Cards/Cubs) – Lexington Legends (A) – Louisville Bats (AAA)
Indianapolis Indians (AAA) – Kane County Cougars (A)
5 Cities- 9 nights (3 in Windy City) – 8 ballgames – Bourbon Tour(s)
Louisville Slugger Factory – Fireworks & BPT Quirks & Hoopla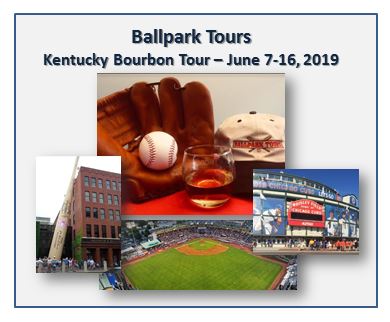 Don't miss this leisurely jaunt across the Midwest to the land of baseball and bourbon. (There will be beer for traditionalists.) You get three nights on Chicago's Gold Coast plus a pair of Cards/Cubs tilts. We settle into downtown Lexington and Louisville for two nights each, within easy striking (and sipping) distance of numerous distilleries.
We then meander off to downtown Indianapolis and wrap up our trip with fireworks at Kane County. There will be side jaunts to breweries and distilleries along the way, as well as time to explore the attractions, culture and cuisine of each city on your own!!!
***
Hop on the bus now. It's already half full!!!
$1995 (dbl) – $400 deposit@person – Full Pay Discount $1965
To download sign up form click here.
FOR MORE INFO: Email Julian@ballparktours.net
____________________________________________________________________________________________________________________
CUBA November 2019
Diamonds to Our South III
Hey Folks – If Cuba is on your list of do's,
then do get on our DIAMONDS mailing list now!!
We are planning another 8/9 day trek to our closest island neighbor for next fall. We've discovered on our previous trips that baseball remains the language, heart and soul of the Cuban people and provides a unique link between our countries & cultures.
Our partners at TRANSEAIR have been traveling to Cuba for more than 20 years – and know how to get you there in style. We expect this trek to be as memorable as our past Cuban excursions. You'll be getting a full dose of the passion and joy the Cuban people bring to their music, food, libations, art, culture and, of course, baseball. And you'll experience it all with a lively group of fellow fans and friends.
For more info of to sign up for the Diamonds to Our South email list , email Julian@ballparktours.net
_________________________________________________