Bleacher Bums XXXIII: August 5-11, 2015
Bleacher Bums XXXIII: August 5 – August 11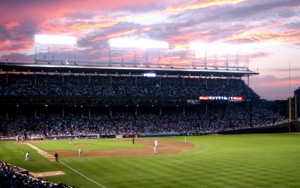 Rock & Roll Adventure: Schaumburg – Chicago – Cleveland – Detroit – Chicago
Miners/Boomers
Giants/Cubs
Twins/Indians
Bosox/Tigers
Angels/Chisox
6 nights – 6 games – Play time in Chicago & Cleveland – Microbrewery Escapade(s)
Bleacher Bums XXXIII is now in the books.
Check out Dave Karpinski's excellent recap on his Baseball Roundtable site.
Notes – Quotes – Whatnots
Schaumburg – Chicago – Cleveland – Detroit – Chicago
Miners/Boomers – Giants/Cubs – Twins/Indians – Bosox/Tigers – Angels/Chisox
1773 miles – 6 Days – 5 Cities – 6 games -156 hours
Duck Call – anointing of Associate Pope – Lunch Master/Sacred Eel Pout –  low flying planes – Schaumburgers –  ChiTown = museums, tours, trains, eateries – The Lodge – Pink Cadillac – Wrigley Field Decade Dogs — Wrigleyville's new hard hat atmosphere — Cubs' Maddon bats pitcher eighth –  Plethora of duck calls -2 watches.
Dr. Dave sets up office at the back of the bus – Phil DaBowle – New use of play review as umps lose track of balls and strikes -Lasers, Fireworks, Rock & Roll – Rock & Roll Hall Of Fame – 17-alarm fire – Shane Robinson pitches – Twins give up 19 hits and 8 walks in 17-4 loss – Repeat  Lasers, Fireworks, Rock & Roll – Who's got the runs? – Tigers' Cigar Bar – Pacing Nurse to Rescue – 45 pitchers in first four MLB games – Kalamazoo  & live Sunday Night Music – Theresa and the Magic Jukebox – Owners' Box — Buddy Guy sighting – The Lodge again, dancing girls and butcher knives – Minhaus Brewery & Distillery  – someone has the runs – photo op – Kwiz Winner Wilkie  — A week of BOB (Back of the Bus) Karaoke.
This trek may best be summed up with unattributable quotes:
" I've never laughed this hard on a Wednesday"
"Lets take out some more seats & put in dance floor"
"Can't remember laughing this much on a Thursday"
"It's like a carnival ride"
"Babies and Scalpers and Martinis – OH MY!!!"
"Ballpark Tours Tattoos' – Bruises"
"I have no idea where the blood came from"
"Is this heaven. No, it's the back of the bus."
Or maybe best by the words ringing from the Back of the Bus Singers.
"There's something happening here.  What it is ain't exactly clear."