Bleacher Bums 30th Anniversary Tour (2012)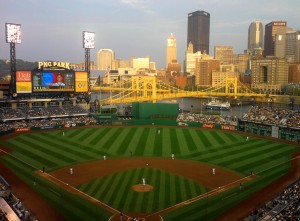 By John Reay
I have only been on 15 of those trips and there are many that have been on more. I have been going on more now that Julian has upgraded the bus so I don't bruise my knees so much.
This is the year that I roomed with my fourth 'Larry Award' winner. This is for 'Outstanding Aberrant (Bad) Behavior'. As in past years I didn't encourage such behavior and was a paragon of virtue myself. I guess that the contrast helped the 'Council of Cardinals' find Dan to be exemplary in all facets of the award criteria. Enough.
Karen dropped me at the Midway parking lot (as usual) and it was both hot and raining. On these tours, there has been only one game rainout, so this was not a good omen. Turned out that it was universally hot and humid but no rain outs
There were 35 folks with only 3-4 that had never been on any previous tour, so it was old home week – remembering the quirks and idiosyncrasies of fellow travelers. There were several previous Award winners, so the competition for the various awards was furious.
First stop was Kane County for the Cougars Single A game which was crisp and a joy to watch. Pitching at that level isn't so hot, but the fielding was probably better than the Twins displayed in Pittsburgh… More on that later. Before the game we had a picnic at the park put on by the park folks that was fine ballpark fare. Yes, we all would finally get 'tired' of ballpark fare by the time we ended the tour with a game in Chicago the following Saturday.
From Kane County (just south of Chicago) we drove to Louisville for a Sunday game with the Bats and the Twins Triple A team from Rochester. Yes, we recognized several players that had been demoted from the 'parent' club. We stopped first at the Louisville Bat museum to tour the factory to learn how the bats are made. That was fun. I hit one 55mph pitch in the batting cage – and whiffed on another nine.
In the bar/restaurant in the stadium we met Bob who proved to be a wonderful guide to the park. He is a season ticket holder who was greeted by every employee in the park by name. He sold shoes at Pennys for 43 years and was now working part time in a hardware store. Great stories and good humor. I found that openness and willingness to help by locals everywhere we went and that made it a good experience.
Because we were back at the Bats Stadium for the second game next night, I had a day to explore the city. Of course everything is closed on Monday, yet I found a 'Yuppie' part of town (NU-LU) for a wonderful lunch – BLT with fried eggs on toast. A few of us then found beer cheese soup at another place for a mid-afternoon snack.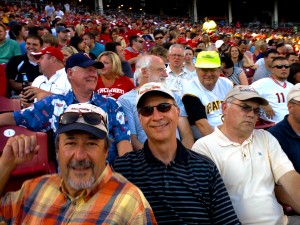 Tuesday found the tour in Pittsburgh for three games with the Twins. The Twins squeaked out one win in three attempts. My highlight, however, wasn't the games but the Carnegie Natural History museum which combined geology, architecture, art, archeology, entomology, and gems. Dan and I spent 5 ½ hours and enjoyed it all. At the Impressionists exhibit, we met a woman, Naomi Marx, who works for Art Space (where Pamela worked and where Gary Genecky (?) still does work). Dan, I and Gary have been friends for many years and to meet someone who still lunches with him a thousand miles away was neat. Across the street was the University of Pittsburgh with their Cathedral of Learning – a 36 story building with a dozen classrooms decorated according to country cultures (Armenia, Turkey, Israel, Germany, Switzerland, France, England,etc.) From the top, we had a panorama of the area. We also saw the Heinz Chapel with beautiful stained glass windows and a new organ with over 4,000 pipes (the person in charge that day was playing a disk of organ music which was divine to listen to. We took a city bus to the ball game.
The third day, we found that the hotel had double booked our rooms to folks coming into the city for the NHL draft, so we moved out of town and took a train from the new hotel to the game. That was fun as it was through suburbs and under a river (one of three) before getting to the park. I hope that the south-west light rail line coming to Minneapolis will be as picturesque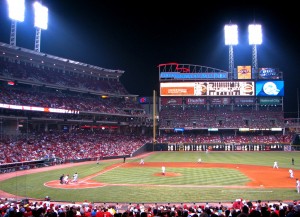 From Pittsburgh we alighted in Cincinnati staying across the street from Skyline Chili – the best purveyor of 4-Way Cincinnati Chili and Coney Dogs. I loaded up before taking a shuttle to the game.
The game was a blowout with the Twins on the short end of the score, so I walked across a bridge (the New York Brooklyn bridge is modeled after this on) over the Ohio and took a horse carriage tour of the old city of Covington Kentucky. Lots of history to be presented in that area including hearing about the Underground Railroad before the Civil War. That area has been gentrified after almost being torn down a few decades ago as a blighted slum. Glad it wasn't!
The final game was a Brewers vs. White Sox game in Chicago. The tour operator gave us seats in the third deck where we wouldn't have to deal with rowdiness and fights that are common in the bleachers. Thanks Julian. Being that high up almost required supplemental oxygen.
The final day (Sunday) found us on a brewery tour in Monroe, Wisconsin. The guide was a delight and the tour fun as no production work was being done on Sunday. They make some 60 brands of beer – many of their own, but most under contract. For example, since the Hurricane in New Orleans destroyed their local brewery, these folks have been making Dixie beer and shipping it south. We saw warning labels on some cans with UK medical warnings – headed for Canada I guess.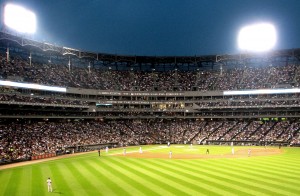 Julian claims that this was his last trip as Tour Operator but I think we all had so much fun that he will eventually decide to do it again next year. I am ready to send in my deposit as encouragement!
                         John Reay Bleacher Bums Tour – 30th Anniversary. June 16 – 24, 2012